"Lighting a flame in the hearts
of next-generation leaders
who will create the future of Glico"
Human Resources Division, Ezaki Glico Co., Ltd.
Ezaki Glico Co., Ltd. ("Glico") has introduced the Leadership Circle Profile (LCP
*
) into its Change Leader Training to train future executives and managers. This embodies Glico's desire to raise highly-motivated personnel that are capable of reforming the company so that it can demonstrate its purpose globally even 100 years in the future. We interviewed Atsushi Higashino and Makiko Nakatani of the Glico Group's Personnel Department, about the back story, results and future prospects of this introduction. Since the introduction of LCP and coaching, both of them received training to polish their skills.
| | |
| --- | --- |
| Industry | Food manufacturing |
| Sales revenue | JPY 338,437 million (consolidated for fiscal year ended March 2016) |
| Number of employees | 4,961 (consolidated as of the end of March 2016) |
| Business description | Production and sales of confectioneries and foods |
* Leadership Circle Profile: A 360-degree assessment tool for measuring how well an individual demonstrates leadership
* Job titles correct as of the date of the interview.
Coaching that draws out the actions and awareness of leaders
— Please tell us about "Change Leader Training."
Nakatani:
Change Leader Training is training that targets future candidate executives. Sixteen people are selected to participate in long-term training across a period of approximately one year with the objective of strengthening their decision-making and leadership capabilities and refining the core elements of being a manager. Training is divided into two periods. The first half is based on the MBA course, and the theme of the second half is to plan a strategy to transform Glico. On the final day, participants present their strategies and explain their aspirations and dreams behind them to the executives, including the President. A lot is expected of this training in terms of developing personnel that will lead Glico in the future.
— Please tell us what led to the decision to introduce LCP.
Nakatani:
In the first Change Leader Training, there were some presentations that didn't express the presenters' own desires or dreams, and the executives indicated that they expected more proactive aspirations and proposals that were not attached to everyday work. Therefore, in the second term, the challenge was to refine the training so that it would enable participants to consider what the company will be like in the future and affect their awareness and aspirations. In the discussions, I remember Atsushi said that people have developed their awareness over many years, so it's not easy to change that. He said that first, it's important to change their behavior. On that basis, we thought that awareness would gradually change if repeating a cycle of where people implemented what they'd thought about in training, reviewed it, and then implemented more based on what they'd learned. So we decided to introduce coaching that promotes action based on learning. That's what led up to consult with WAKE UP.
Higashino:
The behavior that we wanted to promote though training wasn't simply to carry out certain challenges. Instead, we thought it would be good to influence the participants' ways of being leaders. That's why we introduced LCP in addition to coaching. Actually, I had the same challenge in my previous job, and I was able to solve this challenge through coaching and LCP. With LCP, I could reflect on my own preconceptions and habits that I wasn't even aware of. I thought that this kind of reflection would be incredibly effective and meaningful for employees with a long work history.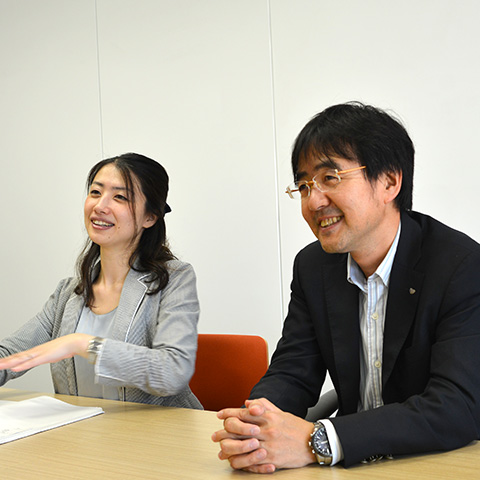 Training that lights a flame in the spirit of leaders
— After it was introduced, what kind of changes did you notice?
Higashino:
I also took LCP, and it was even more surprising than I had imagined. I became aware of habits that I didn't know about, and I realized that I wasn't as good in some areas as I'd thought. I got a clear understanding that there is a real difference between how I view myself and how others view me. It was a big shock, and I needed courage and time to move ahead with the process of digesting this on my own. In combination with coaching, and taking on the results from LCP, I was able to think about how I want to be as a leader, and what I need to do to make that a reality.
Nakatani:
All of the participants were surprised by their results.There are some people whose results showed that they weren't demonstrating as much leadership as expected, and so they had to reconsider their approach to work. However, others gained confidence because they had good results despite feeling like they were struggling with their daily work and with training others. After the first coaching session (coaching with LCP feedback), many of the participants were a bit confused. Now, looking back, that was a necessary process and good for them. These people will transform the future of Glico, so there is not yet a definite correct way to do that.They would need confusion or chaos to find ways of how they must change themselves to become leaders for the future of Glico, what actions they should take to achieve that, and how that will transform Glico.
Higashino:
It was good that we continued with coaching supported by WAKE UP after that. With the results of LCP, participants reflected upon themselves. Every coach supported them to directly accept and face the results. Towards the goal of "taking action," the reflection and coaching gave participants time to carefully consider what kind of leader they would really become based on their present state, how they would change Glico, and what actions they would take to achieve that. The participants really appreciated LCP and were very satisfied with the coaching.
Nakatani:
Some employees changed their initial aspirations and plans all the way up to the final presentation after receiving the results of LCP. We also saw many cases where presentations became more enthusiastic with strong determinations and concrete action plans. We hope that the motivation from this training will have a positive effect on their everyday work.
Developing the power to influence Glico as a whole through the training
— Please tell us about the training schedule and your expectations from WAKE UP.
Nakatani:
Executives said that "There were many announcements about what they would do as Glico employees. We would like them to also think about what they would dare to do as leaders with the rest of their life." Although the presentations had greatly improved, it was often the case that they were motivated by the needs in their current assignment and the needs of their position. Therefore, WAKE UP suggested that the LCP and coaching, which was performed in the latter half in the second term, should be performed in the first half in the third term. We thought about a program to form a purpose on that basis (Figure 1). By doing so, we hoped that it would draw out dreams and behavioral targets not only for their current job but also in connection to the life they will have in the future.
Higashino:
In coaching based on the LCP results, we thought and spoke about why we first chose this company, and what we wanted to do when we first joined the company. These desires, dreams and aspirations are important. As time passes, and as we get involved in various assignments, we sometimes lose those desires, dreams and aspirations from when we first joined the company. Then, the objective of daily work might become merely to earn a living. If such people become bosses, they will just follow the company policies without having any dreams or hopes. They won't be able to transform the company or be responsible for its future. Moreover, they won't be able to develop their team members. We want people to recall the feeling of enthusiasm they had when they joined the company through LCP and coaching. That is another aim of the training. There is a great expectation from WAKE UP to ask this question and draw out these feelings from employees.
Nakatani:
One of the goals is to cause employees that participate in training to act and become aware that they themselves will make the future of Glico through those actions. We want employees who have rediscovered their initial desires, dreams and aspirations from coaching to talk about it to junior colleagues. We want them to talk about their dreams and hopes and what the company will be doing 100 years from now. That will transform Glico. We hope that the effect will spread not only among employees who have been trained but also throughout the entire company.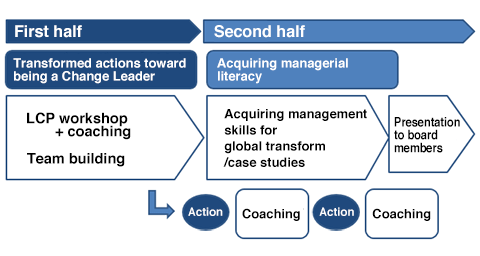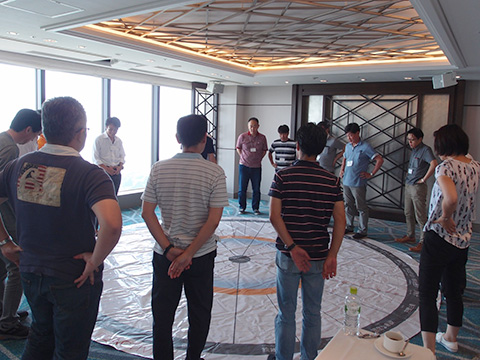 Comments from training participants
Nobuyuki Arita, Manager, Accounting Center, Accounting Department
The coach always asked, "Why?" repeatedly, which made me think about my honest feelings. By so doing, I reaffirmed what I wanted to do in Glico originally. It was an important opportunity to again think about what I want to be in the future and what I can do for the future of Glico.
Mayako Murakami, Brand Manager, Health Business Marketing, Marketing Department
The results of the LCP objectively evaluated my current situation, but even if I knew that in my mind I hadn't accepted it in my heart. The coach listened carefully to what I said, and drew out my feelings and thoughts, which made me firmly accept who I am now both in my head and in my heart. I feel that was really helpful for me.
Date of interview: August 25, 2016